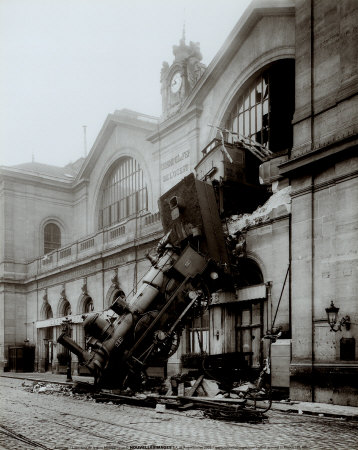 I was zero years old, it was 1966, I seen the light for the first time.
I wasn't healthy, all grey, unable to breath by myself, just a trash in some other century but we was already in the second part of the XX century so I survived .
I was born, just in the middle of Paris.
In " rue de Vaugirard", not far from the "Montparnasse" train station; my grand mother was leaving just above us, me and my parents.
There was a chocolate fabric just in front of the window and the smell of the chocolate was awfull.
At this time in France not much people got a TV. Elisabeth Hu, my grand mother, buyed one, mostly for the passion of my father for sports on TV, but every evening I got the luck to look at a TV show everyone knows here, "Bonne nuit les petits".
Two and half years later my sister arrived, this was the very beginning of my childhood.
I got this little bicycle with four wheels and a yellow seat with black spots.
My grand mother was taking me often at the "Jardin d'acclimatation de Paris"
Time after time the little appartment became too small for two kids and young parents.
The familly decided to move out from Paris and founded a little house in the "Vallée de Chevreuse"
.
 There were, in a middle of the garden, a rock of the "Forêt de Fontainebleau".
One part of the house was dedicated to my gentle grand mother.
There were behind the house a long garden that was ending by the little river "l'Yvette".
I was maybe five years old when we all arrived there.
At this time my parents liked to invite people, making diner with some kind of luxurious food.
I have this souvenir of the "oeufs en gelé", it was disgusting for me but they liked it so much!
This time of my life was the time of first friendship, imaginary worlds, those world where you never really die, those world where time strech and strech again.
These moment that print you for ever.
So at this moment of my youth music was already coming without a real consciousness of the value it was on the way to be and the space it took in my life years after.
At my parent's home music was discret and almost a taboo but I remember well this magic LP
Here is the widget of the video of Jeanne Moreau walking of the Champs Elysées with the music of Miles Davis from the original soundtrack "Ascenseur pour l'échauffaud"
My father didn't want me to listen to it, but what's more attractive than a forbidden things?
He was saying that it was for adult only. It remains for me a mysterious opinion.
At this time my mother was hair dressed like "Sheila"


I was wearing hippies clothes and large boot cut jeans.
The ties of my father were ugly, the life was happening on an other planet than today.
Holidays was simple and sounds a little like that song by Michel Jonaz.
here is the widget for the song "Les vacances au bord de la mer"

The dream of my parents became true and they builded the house they dreamed about.
It was in a little city called Sainte Genevieve des bois

I was about 9 years old when my dear grand mother Elisabeth Hu died.
As her heart was big enough to contain love, it was so fragil and I founded her with a gentle smile on her face, she was gone.
After this time, nothing was the same.
It's years and years after that I can understand that a familly balance faded away at this very moment. Like a tree that loose an half of its shape and slowly falls on a too heavy side.
Since 1976 I was always and I'm still sometimes listening the gorgeous album of Stevie Wonder below.
Songs in the key of life.
Most of my first awakenig are tied to this.
First kiss or Party nights few years after it came out on all radio of the world.
At this time music wasn't consciously something i planned. But my child imagination was so much high and singing took me up in the sky.
Here is the widget to listen Loves in a need of love on Youtube.

At this time my childhood ended.
My sister was 9, she felt sick.
I'll make it short but it was really bad.
The shadow of death was above the familly since my grand mother died and it never stoped till now.
Two years after this sad episode the familly was totally destroyed.
Time after time we became all strangers for each other.
I got no real teen age and i went straightly in adult life.
This time is like a ghost.
It's only in 1987 that I received my real gift from life.
At this very moment my life started properly.
I got a couple of friends, both were playing some music.
They liked the Stones and all those old pop rock type of sounds.
We were spending, as many people, hours and hours listening music and hanging around.
Once one of those two friends came in my little home with a strange box.
The box was in a ship wood and looked like an half coffin.
Inside was an old saxophone.
I was listening much jazz at this time on my own because my friends didn't like that.
I loved  Laura by the Bird or the soundtrack of the Bertrand Tavernier movie
Around midnight, some song by David Sanborn, many others from Weather report or Bitches brew of Miles Davis.
Here is the widget to listen the song Body and soul on youtube

At this time I never imagined playing any instrument.
When the saxophone felt in my hands it became suddenly like an obvious.
I felt easy on it. I was done.
The saxophone my friend lent me stayed in my home for few weeks and then when he told me that he got to give it back to his owner I decided to buy one on my own.
It's how I became a sax player.
At this time I was still working in a "regular" job and time after time music grown in me.
My two friends and myself started to play together and it was our first band.
We was playing some songs like Get back, Sympathy for the devil, and we got only one composition.
Here is the widget to listen Sympathy for the devil on youtube

I was singing and they autorized me to play alto saxophone on one song only.
In fact they were a little desappointed because they would have preferred me to play keyboard.
At this time playing a monophonic instrument was enough for me.
The name of this little band came after a girl joined us to play the bass guitar.
We chose as name some close to us and our way of living, "The tea pot smokers".
We were playing in a cave under a police station during 2 years.
Then life made its job, some got kids, others changed city. It was over.
At this time I didn't plan to be a musician.
I was playing for myself till it took more and more and more time in my life.
My job wasn't very captivating and I got my precious escape with the hours I was playing my saxophone everywhere i could.
I liked very much to play under the bridge in Paris called "Pont Marie".
The incredible accoustic took me out from reality and I really started to enjoy a little too much playing .


At this time playing on my own, alone, became a little too few.
But without any knowledge of music theory I didn't dare to propose myself in band.
One day a very precious friend of mine opened a large door on my futur.
That was a real gift. A keyboard, not a simple one.


That one…!
This machine is still an amazing product. Inside some great sound and a midi 8 track sequencer usable live or step by step. So easy to use and helpfull to build up little songs on your own.
A very few time after I heard about Cubase 1.0 and Atari computers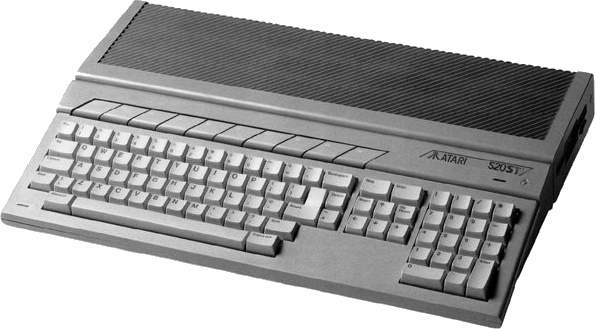 I was done, I got the virus.
I connected it on some tape recorder and composed my first songs.
Years after the only person who got a tape of it was my mother.
In 2009 I realesed those archives on the web in an LP called "Passing by".


Here is the widget to listen "Passing by" on Archive.org

Surely the sound is ugly but something inside shows a researce that influenced a lot what I do now.
Done between 89 and 92 the material was a basic set.
At this time I still got some little jobs to provide to myself a home and it was time after time that I really started unconsciously to leave behind me the "normal" life I use to have.
Back in the 80's there was still the military duty of one year and I did it in Germany.
When I started a relationship with a german girl in Paris few years after I didn't imagine for a second going back there, but life is strange and I did.
So back there, in Germany, it became totally messy.
Nothing that deserves to talk about. A path from youth to reality that left scares and pain.
From this time remains one thing that deserves a line here.
It's a song played in a real piano, recorded with nothing in a warehouse full of noises but something in it still feeds what I'm doing today.
A deep sadness and no skills to play but even the sound is less than a garbage something is deeply human in it.
It's still difficult to listen and remember that time.
It's really where I musically come from.
I got it on an old tape rescue from long time living in a street.
The sound isn't what has to disturb you even it's really bad.
This is properlly an archive of my life. The title came years later in time to release it on the web.
Here is the widget to listen "How I died" on archive.org

After this I crossed Europa playing for living everywhere I could.
I wasn't properly balanced, saxophone was the only link I got to society.
Years was passing without being able to recover a social normality.
It's how I became musician. Without a will.
For long I didn't have anything else than my alto sax and a bag of clothes.
The story was simple, I felt a little bit like this fable of Lafontaine The_Ant_and_the_Grasshopper.


Years passed and my path became more and more blured.
The lines of time came on my face, grey hairs appeard and
the shadows in my sight became a deep darkness.
Unable to face responsabillity, acts and feelings were replaced
by sad madness and insane projection in a void of death.
Music rescued me by giving a back door to reach back myself.
This music, that still keeps me alive today and that makes my wisdom grow and my hope stands, also offered me to be myself.
Time by time healed by art I felt again my heart beating and the dark cloud above me faded away.
Living at night became a far memory. I dived in my creative universe and since this time
I never went back playing in a street. I discovered the pleasure of feedback provided by the audience on the web.
Today I can dare to say that I'm accepting things I didn't want to see in a past.
Today it's possible for me to accept love and to feel each moment of the present as a step forward that caress a bright and warm future in the life I chose.
After years of therapy and learning about myself, even if I have no proper answers I understand something.
Each lines of the books written by Boris Cyrulnic feed my hope and my abillity to see the future and my strenght.
I wish you to feel how pain is a food to improve your power on yourself.
Today is the present and I'm living it fully in a commitment with who I am.
My mistakes are my humanity and I'll do my best not to reproduce them but I won't try to erase them. If I ever try again I'll be back in the dynamic of failure that took me down for years.
I can't wait to see how tomorrow will be.

What could i say more ,life is short.. it's almost the end of mine.
I got some bright days and some ugly nights.
I know starving, lonelyness, death and many contrasted stuff.
I breath today and i don't mind of yesterday.